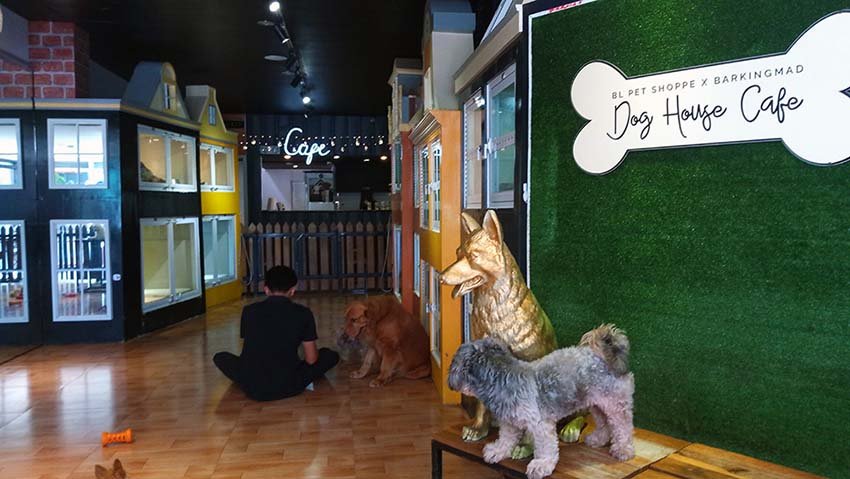 The Dog House Café in the City of Malolos, Bulacan, is absolutely the cutest and most fun-filled place in Bulacan. Humans and dogs play all-day, isn't that the dream? You would definitely melt your heart out and hang out with some of the cutest best friends a 'hooman' could have. All the while, enjoying a hot cup of coffee or eating your favorite snack.
Me and my wife (yep, I'm promoting her YT Channel) have always been dreaming of having a pet dog. Apparently, due to our very busy schedule (and allergies!), we knew that we cannot take good care of one. Luckily, we found the best place to satisfy our longing for cute and cuddly dogs.
Lunch meeting with dogs? The Dog House Café in Malolos, Bulacan has that! They can setup a table where both you and a chosen dog can eat together. I was a bit disappointed that I didn't bring a high-definition camera that day.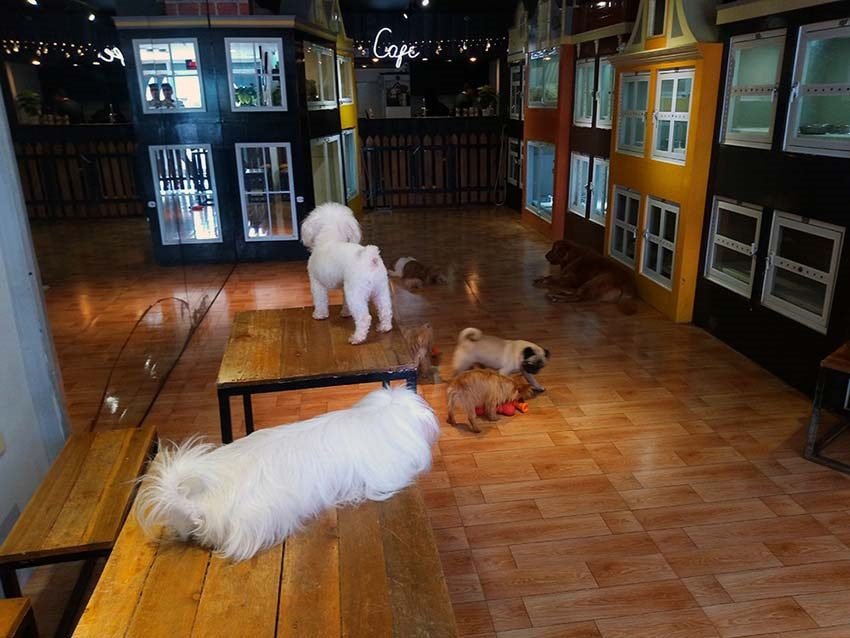 The Dog House Café in Bulacan
The café is owned by Barking Mad Café, and under BL Pet Shoppe Incorporation. It was established in February 2016. This is probably Bulacan's first dog-themed cafe, pet hotel, and dog school. You get to spend time with their resident lovable companions and experience the ambiance. Plus, good food!
How to Get There
How to get to the Dog House Café? It's easy to find their café since it's just along the streets of Guiguinto, Bulacan. They're also searchable in Google Maps. Their address is 363 Sta. Cruz, Guiguinto, Bulacan, along McArthur Highway. It's Beside BL Pet Shoppe. Look for a giant red "dog" house with a blue roof. From Manila, you can take the North Luzon Expressway, and exit on Tabang.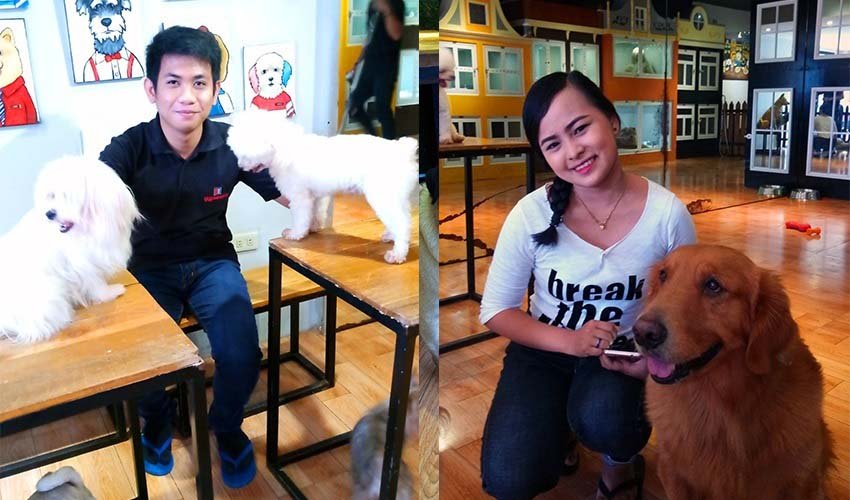 How Do Dog Cafés Work?
There are only a few Dog Cafés in Bulacan. Other ones are located in Metro Manila, such as this Dog Café in Quezon City.
A Dog Café is a place where you can eat and dine, with the added bonus of interacting with cute and cuddly dogs. Dogs are usually in a play pen or dedicated area to avoid stealing your food, or giving you that puppy dog eyes while eating
The Menu
Since we arrived very early, the caretakers are still preparing the dogs to put them in their respective places. We first tried their food while waiting. No, not the dog's food, but their café menu. You should try them!
We ordered light meals since we were planning to eat lunch at Sky Ranch Pampanga. We really just tried their food since we have time to spare. Delicious waffles, pasta and frappe. All tasted good, and I assure you that their food is clean. If you are not comfortable eating in an area beside the dog cages, then you might be a little uncomfortable here.
Dog Café House Rules
For your safety and the dogs' welfare, you should know their house rules before entering the dog pen and bond with the dogs.
Time to meet the Dogs
Time to bond with the dogs! At first, we were quite scared because the dogs might bite or scratch us. They were all unusually barking and running around and were very very very active! It was a different experience than our trip to the Manila Ocean Park, where we petted a calm Sting Ray. Around our area, a dog café in Bulacan really stands out, as there are not many of them.
But, the dog house caretaker assured us that it was alright and they are just excited to see new friends. After a few minutes of spending time with them, you'll see that they're really sweet and friendly after all. Let me introduce the dogs that we met inside the Café.
1. Jason, a very cute toy, I mean, dog. Try not to move closer as they might hypnotize you with their charms. You might be drawn to carry him and take him home.
2. The shy-looking dog is Perth, a Golden Retriever. He's kind of snobbish since he only seeks the attention of his caretakers. Better ask for assistance so you can cuddle and take pictures with him.
3. Harley, is the very energetic and active one.
4. And Paolo the Pug, he's our favorite. Very cute and energetic, charming and sweet! He's the friendliest.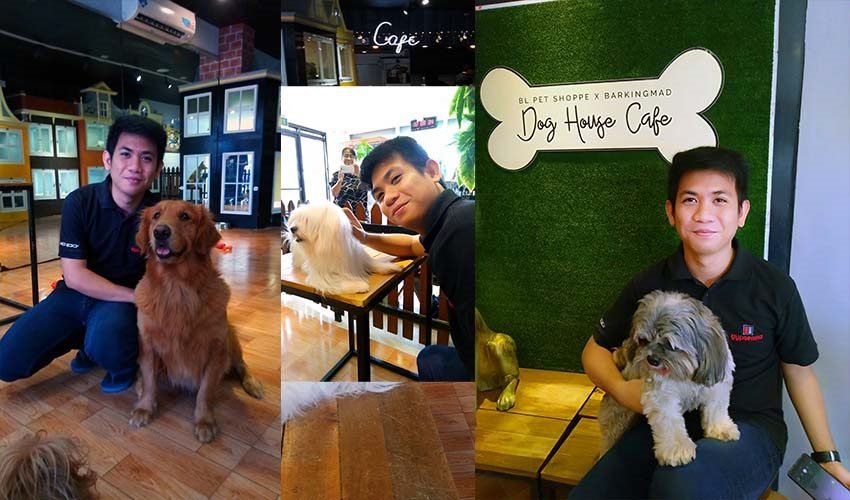 Other Services
Thought that it was just a Dog Café? Think again! They have a dog school and a pet hotel.
If you are looking for someone to watch after your fur babies while you're away, the Dog House Cafe offers accommodation for them.
Aside from the Pet Hotel, the Dog House Cafe also offers a Dog School. Available Programs are Basic Obedience, Advanced Obedience, Agility, and Special Training Programs. Isn't it lovely to see your pets do tricks? Or get them to be potty trained?
Dog House Café Business Hours and Fees
Before dropping by the café, we did some research first if when is the best time to visit it. On Facebook, it shows the approximate number of the "hours of stay" of people, the most frequently visited time and day and of course it the café is open or not. Their Store Hours were from 10 AM to 9 PM but closed every Tuesday for maintenance. Note: Outside dogs are not allowed inside the Pet Zone. SINGLE-ENTRY P199 for two (2) hours stay ONLY – inclusive of drinks EXTEND YOUR STAY P99/hour. But they can let you stay for a few more minutes if there are few customers to entertain at the time being.
Conclusion: Dog Café in Bulacan
Dog House Café is a nice place to visit especially for people who really love dogs. Surely you won't get tired of playing with the dogs. And with their café, you won't get hungry! All of their staff were observing and monitoring so that they can assist you, or the dogs, with their needs. It also makes you feel safe. Surely it was worth a visit!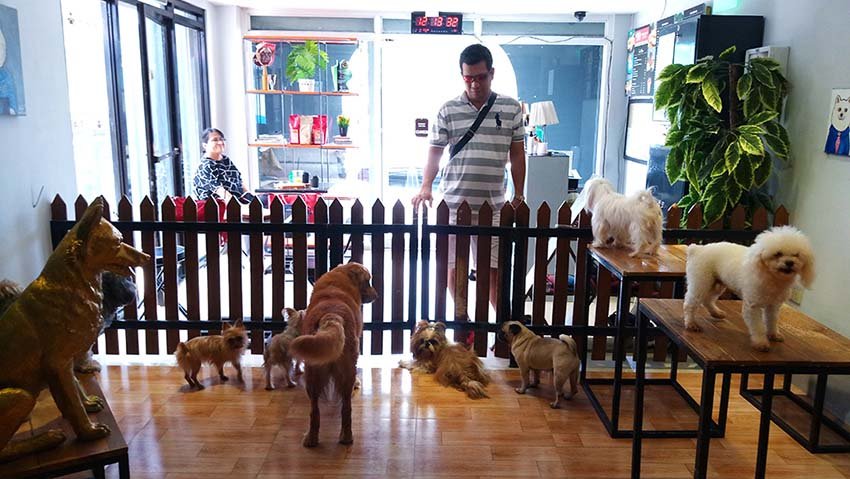 See some more of our pictures with the doggies at our Instagram: @jayetravel
COVID19 UPDATE: Unfortunately, the cafe is now permanently closed.