Your family will truly enjoy a trip to the Manila Ocean Park, without you having to spend all your life savings money. Especially this year, when they have something special to offer.
So I surfed the internet to find a place where (A) a lot of people find fun and exciting, (B) will encourage a little bit of learning, because we like those kinds of things, yet (C) budget-friendly.
Then I found… The Manila Ocean Park's Website. Opened last March 2008, The Manila Ocean Park is a vast oceanarium and Marine Life Park in Manila, Philippines.
It is owned by China Oceanis Philippines Inc. which operates four oceanariums in China. I've heard it before from my friends but never actually checked it out, until now.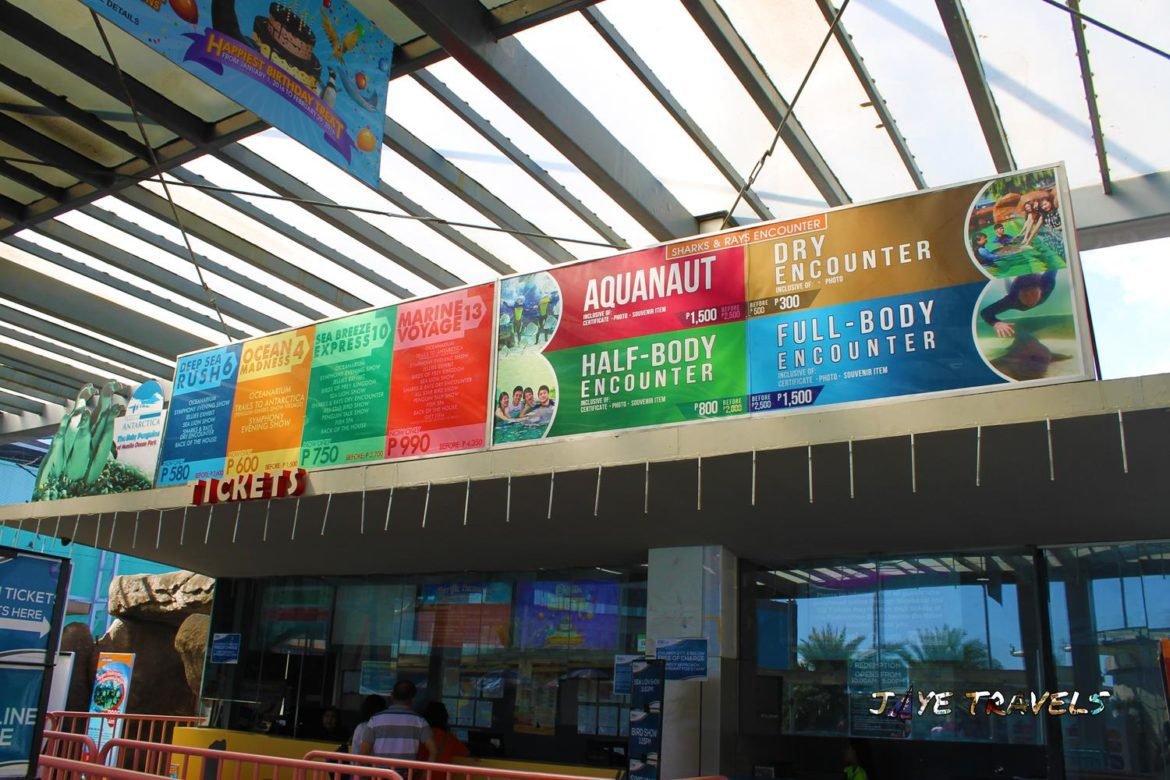 How to Get to the Manila Ocean Park
So we packed our bags and went our way to Ermita, where the park is located. Getting there was a little convenient for us since we are from Bulacan.
From where we live, we just took any bus that can drop us off at LRT Balintawak Station. From there, we rode a train going to United Nations Station.
After a passenger-packed and tedious train ride, we hired a tricycle to take us from LRT UN Station to Manila Ocean Park itself.
A few landmarks such as the National Museum and Manila Doctors Hospital tell you that you're on the right track and when you see the Quirino Grandstand at Rizal Park, you're golden. Of course, you can just take Grab.
What to do first
The façade of the park was very inviting, showcasing lots of different packages and promos you can avail to maximize your experience. The Manila Ocean Park Entrance Fees differ depending on your package. We took the 580 Package named Deep Sea Rush. The package included the following attractions:
The Oceanarium
Sharks & Rays Encounter
Jellies Exhibit
Back of The House
Sea Lion Show
Toy Museum
Symphony Evening Show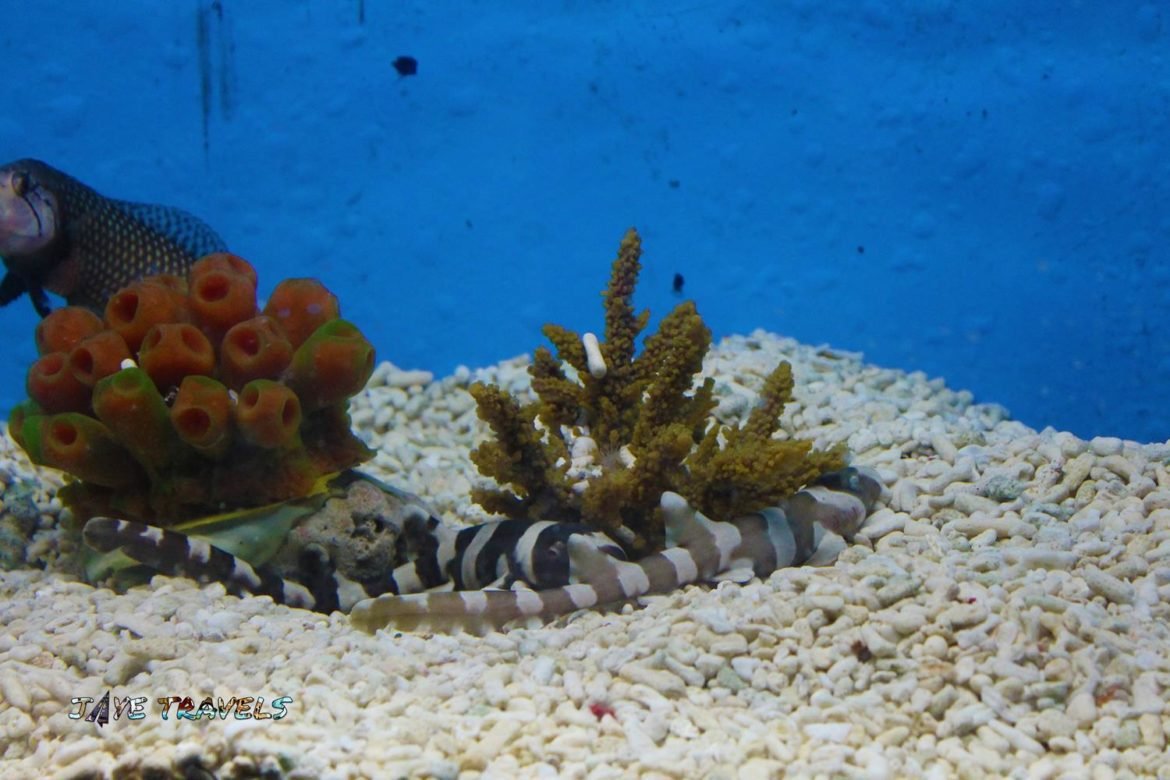 The Oceanarium
Dory! The blue Tang
The Oceanarium in the Manila Ocean Park is a 25-meter long walkway tunnel with 220-degree curved acrylic walls. No we didn't measure it, we just read it from an infographic posted on the wall. Huge tanks filled with different species of marine life are to be seen in this majestic part of the Manila Ocean Park.
Wanna guess what this is?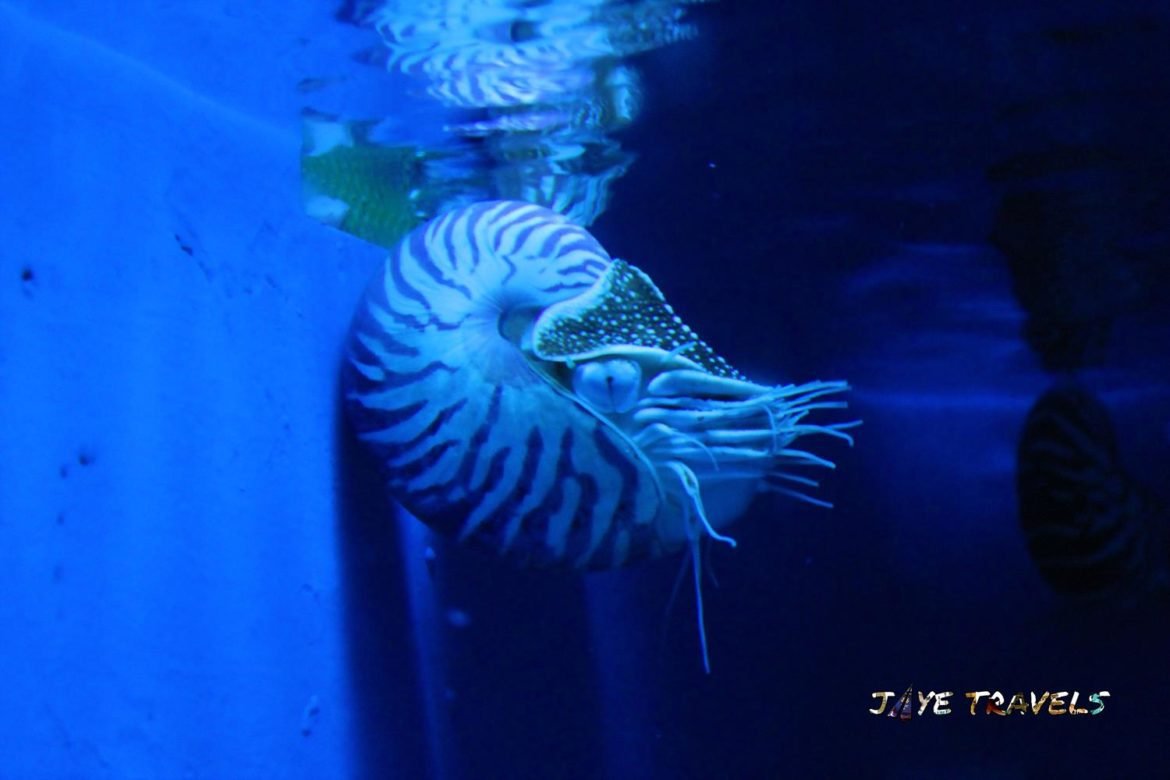 Sharks and Rays Encounter
After properly putting the wrist tags in our… well, wrist, we're good to go. The first stop is the Sharks and Rays Encounter where we got to touch a really big sting ray.
A diver was holding it in place so you would be safe. Though I felt sad that taking a picture with your own camera while touching the sting ray was forbidden.
Manila Ocean Park personnel were the one who will be taking pictures while you delightfully touched the sting ray and you could claim it from a booth outside, but with a hefty cost. Around the tank you could see sting rays and sharks naturally swim around close to you.
The Jellies Exhibit
The Jellyfish Containers change lights depending on the music that's playing
This attraction is one of my favorite in terms of eye-catching flimflam. Different species of jellyfishes roam inside tanks of sea water.
Lights glimmering the tanks and background music from the speakers gave us that, sultry, soulful, relaxing dancing jellies kind of feel.
The ambience was truly melodramatic. Flash photography is to be avoided though. I'm glad they are concerned on the welfare of these beautiful creatures.
Here is a video of the amazing jellyfishes up close.
You could stare at them all day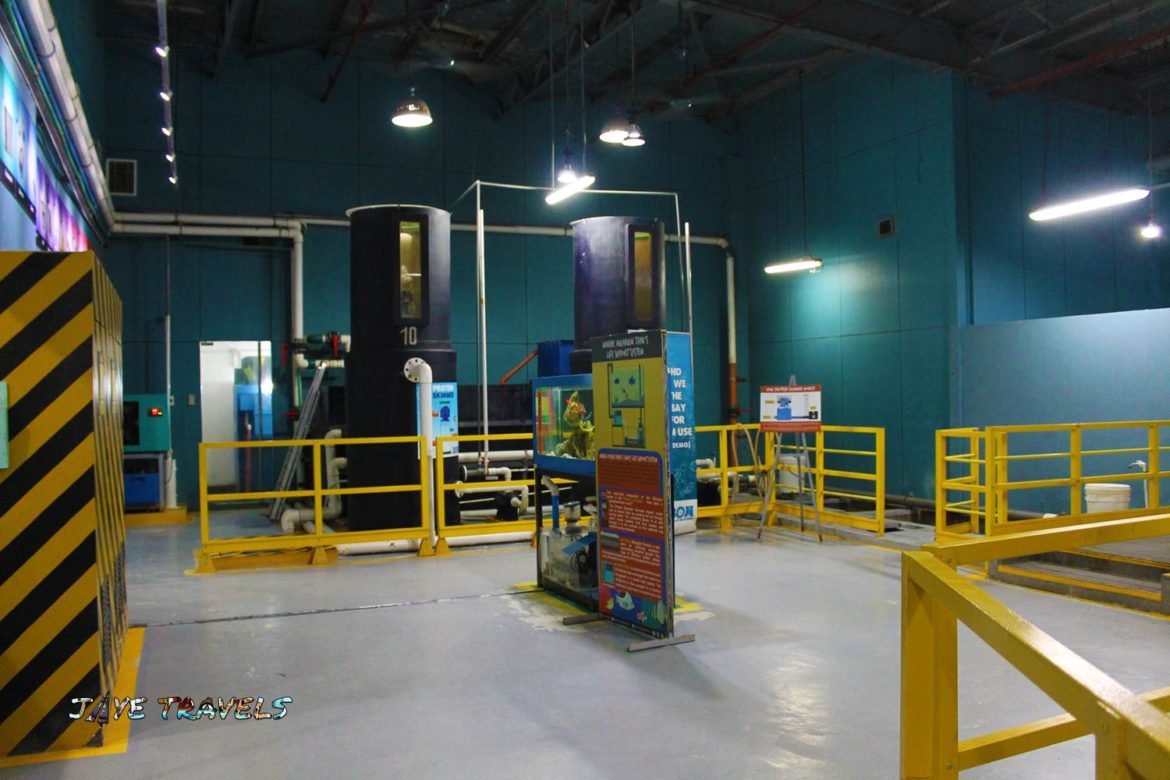 The Back of the House
Back of the House "Behind the Scenes" look on the Manila Ocean Park's Operations
This attraction is less breath-taking, but more brain-learning. We got to see the "behind the scenes" look on how operations work like how the water is treated, how oxygen is delivered and everything you need to know on how they professionally handle marine life. We now further appreciate our friends from the deep.
The Sea Lion Show
We got to see an up-close and personal look at these cute little fellows. We sat at the very front row since only a few people were there. At exactly 3pm, the sea lion show started and as expected, sea lions performed number after number.
They danced with their trainers, they reacted to the crowd, got sad, applauded and even kissed one of the audiences. Hats off to the trainers, we were very… flabbergasted. Their skills to tame and train these animals are second to none.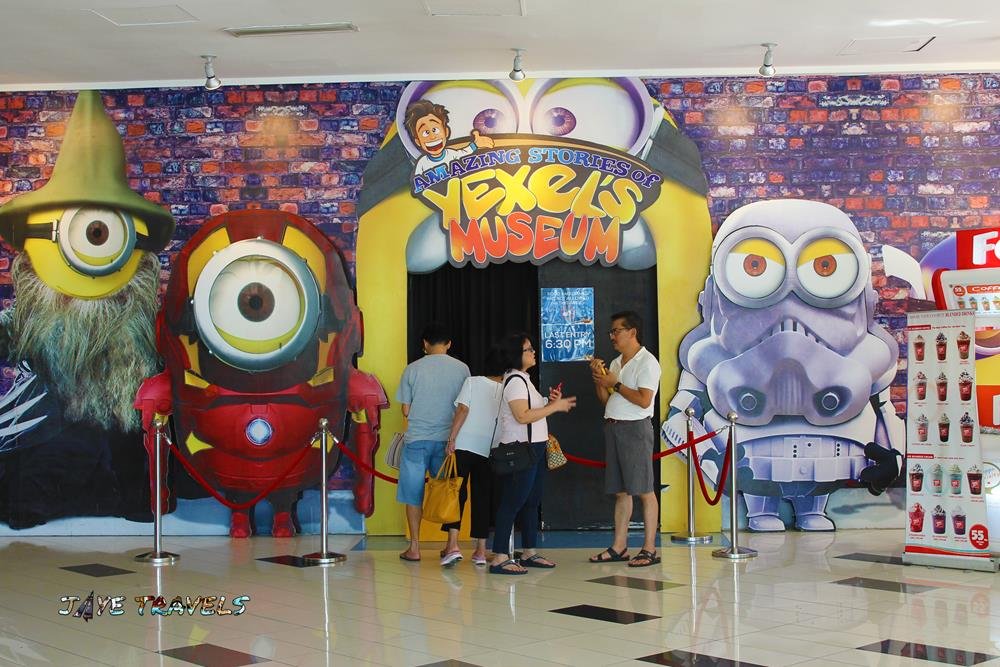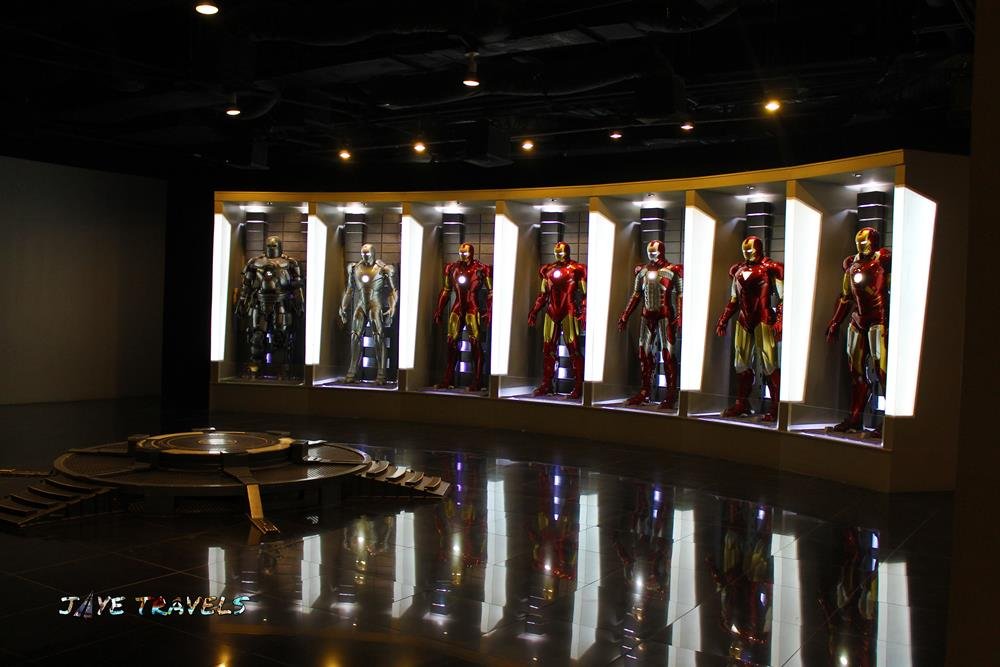 The Toy Museum
We were also curious about the famous, "The Amazing Stories of Yexel's Museum", which was one of the main reasons we visited the park. Instead of paying 300php, we bought a voucher at MetroDeal for only 99php, a day before we visited the park. A great deal if you ask me.
We all have that inner childhood we hide deep down in our hearts. Well, this attraction from the Manila Ocean Park will surely bring out the kid in you. Developed by Yexel Sebastian, what was once a collection of toys has now become an amazing museum.
It is located inside the Manila Ocean Park, 2nd floor. You can go directly to the museum without paying an actual Manila Ocean Park entrance fee, just the museum's entrance fee.
Before entering the museum, it's impossible to miss the huge pictures of Minions dressed in different characters on the walls. Of course, I get to take a picture with Iron Man Minion.
I've dedicated another post to highlighting the features of Yexel's Toy Museum.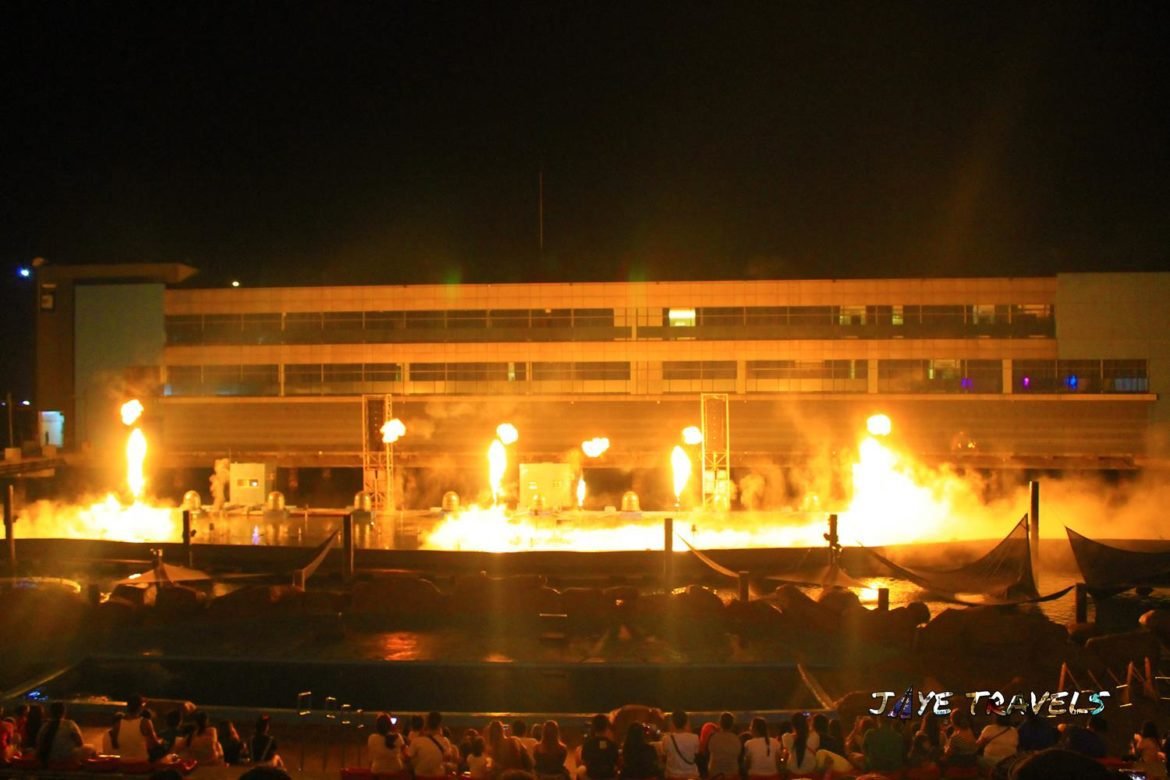 The Symphony Evening Show
What a breath-taking evening show! The Evening Symphony Light Show, starts at 6:00pm
After going through a lot of the attractions the whole day, it's great to just sit back and relax. That's where The Symphony Evening Show comes in. It was truly cinematic, and epic at the same time. One of my favorites, well, right after Iron Man's lab, of course.
A good way to end the day.
The day ends here. It was a fun and great experience with a lot of learning along the way. Hope we could go back and try the other attractions like the Trails to Antarctica, Birds of Prey Kingdom, All Star Bird Show, Penguin Talk Show, Fish Spa and so much more. The more expensive the package, the more the attractions I guess. Who knows, I might bump into you the next time we visit The Manila Ocean Park.
There's also a Hotel near Manila Ocean Park. The hotel is called Hotel H2O, and is right beside the park itself.
Friendly Tips:
Get in touch before going. Address: Manila Ocean Park, behind Quirino Grandstand, Luneta, Manila, Philippines 1000
Phone Numbers: (02) 567-7777 / (02) 567-2309 manila ocean park contact number. E-mail: inquiry@manilaoceanpark.com
Manila Ocean Park Operating Hours: Weekdays: 10 AM to 9 PM | Weekends and Holidays: 9 AM to 9 PM
Website: https://www.manilaoceanpark.com | Watch out for promos here!
Follow rules! NOT ALLOWED:
Flash photography in the oceanarium
Food and drinks inside. Except if you have a baby and he/she needs milk.
Pets
Smoking
Running, shouting, or banging on the glass or aquariums.
Re-entering the exhibits.
Bringing large luggage or bags. (You don't want to be walking around with huge bags)
I recommend spending the whole day at the Manila Ocean Park if you are getting packages. Some of the shows such as The Sea Lion Show and The Symphony Evening Show have schedules. Go to the Manila Ocean Park early to maximize your tour and to avoid too much crowd.
If possible, but not entirely needed, avoid peak days such as holidays. Bring a camera (you can take photos inside the oceanarium just avoid flash photography). Bring extra clothes for children and for parents too, since it is a waterpark anyway. A bottle of water and food. Don't drink from the aquariums. If you can't bring food, there are food carts inside the park.