The founder of the Bulacan Good Vibes Magazine, Mr. John Michael Lim, painted smiles to all the LOLAs at the Bahay Kalinga Home for The Elderly.
Christmas season is not only about hearing Christmas carols, decorations, eating and attending Simbang Gabi. It's not even about receiving gifts and Aguinaldo. Christmas season can be defined as a time for giving, sharing and caring for others.
Outreach Program
The program was a reflection of BGVM's mission to promote global positivity and success in the bustling and exciting province of Bulacan. It was a goal achieved by the Outreach Program Coordinator, as he made a youthful and joyful event possible.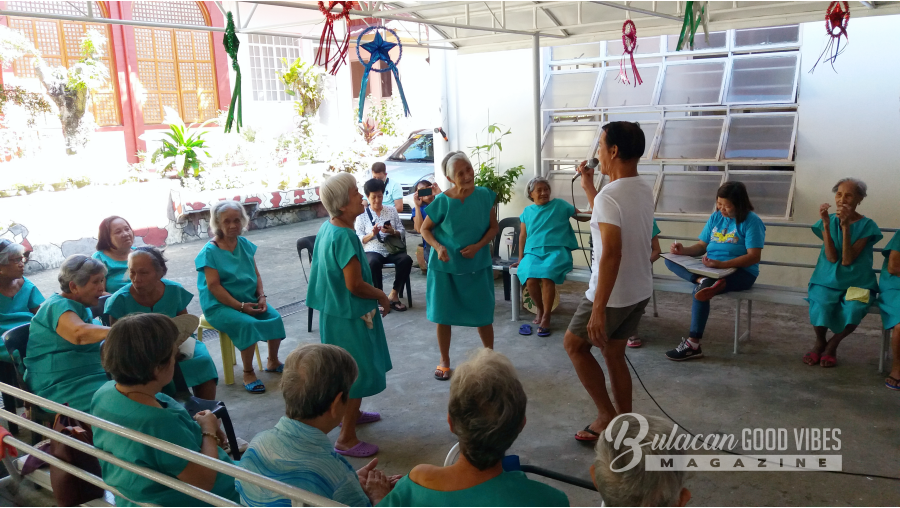 It included a wonderful set of volunteers. People, who met as strangers, are now friends and family. People came together as one, and provided their time, effort, love and gifts. All for the abandoned elders of the Bahay Kalinga Foundation, at San Jose Patag, Santa Maria, Bulacan.
The collaborative work of the different sponsors, from different communities, have made this special event meaningful.
Bahay Kalinga is a place for the elderly and abandoned women. Currently there are 52 patients where 10 are bed ridden. Their ages range from 42 – 60 years. This is similar to the Home for the Aged near Barasoain Church in Malolos Bulacan.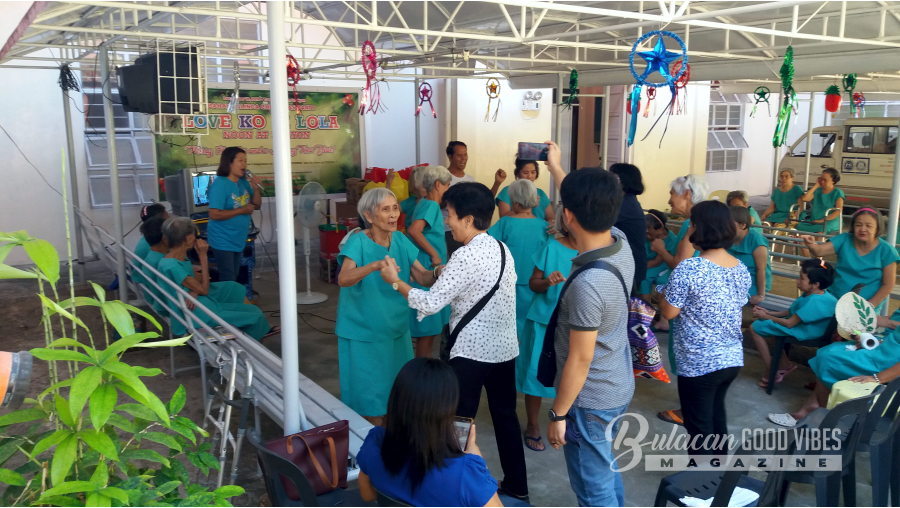 What We Saw
Jaye Travels was there. We saw the cheerfulness and the fullest of life in the eyes of the lovely elders, as they sang and danced with the volunteers. Some chose to be quiet and be seated alone far from others. Others were expressive, and some were really queens of the dance floor.
Bulacan Good Vibes Magazine had its moment, as the founder himself acted like Bondying, a baby character to entertain them. Imagine a big guy, dressed in baby costume.
Here is a video from Bulacan Good Vibes Magazine.
Mr. Lim burst into tears as he was thanking everyone who volunteered. Different people, from different walks of life, came together to make the elderlies feel happy, even for just a short while.
It was a wonderful and beautiful experience. It makes you wonder, what will they do when people like us don't visit? Where are their families? What happened to them? How did they end up in Bahay Kalinga? Well, you can't ask them about it. It will make them feel more abandoned and alone. The caretaker advises against it, as it makes them more depressed.
Be a catalyst of change by showing that you are indeed blessed to bless other people!
How did this happen?
Bulacan Good Vibes Magazine came up with an idea of asking for sponsors to make an event at Bahay Kalinga possible.
Amazingly, Nina's Itikan Restaurant at Santa Maria, Bulacan accepted the offer of hitting 5,000 likes, 5,000 comments and 5,000 shares in Facebook, in exchange of 100 packed meals for the lolas at Bahay Kalinga. Surprisingly, in just 6 hours, it exceeded to 13,000 likes, 8,800 comments and 6,400 shares.
Immediately, BGVM scheduled a meeting with the owners of Nina's Itikan; Mr. Bryan and Nina Ricci dela Torre, who pledged all the foods and other necessities.
Then, BGVM visited the coordinators of Bahay Kalinga; Ms. Beth Huyan and Ms. Bambang, who were excited about the outreach program. Also, Bulacan Good Vibes Magazine sought for more people sharing the same passion of helping the elderlies, and collected donations for the Elderlies.
The program was hosted by Jaye Travels.
How Can You Help?
Bahay Kalinga Foundation, at San Jose Patag, Santa Maria, Bulacan is in need of toiletries, clothes, milk, choco drink, powdered soap, cooking oil and other basic necessities. Help from you will really matter to them.
Why not celebrate your birthday, or anniversary, or any other special event, with them? It doesn't have to be a big celebration or event. It can just be a simple gathering, as long as you are with them.
Who to Contact?
You may reach Ms. Beth Huyan at Gulod 1 San Jose Patag, Santa Maria Bulacan. Conduct of any event or visitation needs permission and a confirmed schedule. There are also house rules that they will talk to you about.
You can also contact Bulacan Good Vibes Magazine and ask help on how to better maximize your visit.